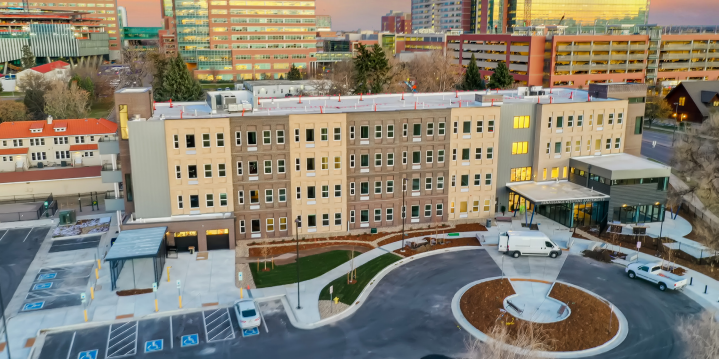 AHP funds benefit homeless Veterans
September 28, 2022
September 28, 2022
AHP funds benefit homeless Veterans
Affordable Housing Program
Homeless and at-risk veterans in Aurora, Colorado, now have a place to call home thanks to a long-standing partnership between The Colorado Coalition for the Homeless (CCH) and Mercy Community Capital.
The Renaissance Veterans Apartments at Fitzsimons features spacious hallways, high ceilings, outdoor walking trails and fitness facility. But the true hallmark of this building is the sense of safety and security residents experience due to its trauma-informed design.
The intent of trauma-informed design is to create unique spaces where residents feel a sense of safety (both real and perceived), respect, connection and community, control, dignity and joy.
Jennifer Cloud, vice president of housing development for CCH, said her organization has been a pioneer in implementing trauma-informed design in their projects for many years. The design concept has strengthened their housing first model, which understands the lack of secure and safe housing is a barrier to recovery.
Located near the new VA medical center and veterans nursing home in Aurora, this type of housing has been a need for the community since the Fitzsimons Army Base closed in 1997.
Even though the project has had tremendous community and political support, it wasn't until 2018 when Colorado House Bill 16-1397 was signed into law that homeless housing for veterans was expedited as an urgent need.
Vice President of Lending Stefani Joy said Mercy Community Capital was ready to help with pre-development and gap funding for the project.
"Being an FHLBank Topeka member is a huge asset when partnering with CCH because we can sponsor the Affordable Housing Program (AHP) grants along with predevelopment loans," she said. "The AHP fits into the core of our mission at Mercy Community Capital, and that is why we applied for the program."
Mercy Community Capital provided a $1 million pre-development loan for CCH and sponsored the AHP grant for the Renaissance Veterans Apartments at Fitzsimons. The project was awarded $750,000 in gap funding from FHLBank Topeka's AHP in 2018 and the structure was completed in 2020.