Letters of Credit
Our Letters of Credit are the simple way to secure public unit deposits in Colorado, Kansas, Nebraska and Oklahoma.
ELECTRONIC. INSTANT. ON-DEMAND. FHLBank Topeka's letters of credit have always been the easy choice for securing public unit deposits. The FHLBank Topeka Standby Letter of Credit is issued to the municipality or state that is depositing funds with your institution. You set the amount and the maturity date and let our helpful staff do the rest.
Getting Started
Once you experience our blue ribbon, same-day service, you won't want to secure funds any other way. You can quickly and easily complete your Letter of Credit on our Members Only site in most cases. Otherwise, our PDF application is always available.
Please contact the Lending Desk for more information.
Choosing Letters of Credit
Check out our resources below to see why the letter of credit is a smart choice for your financial institution.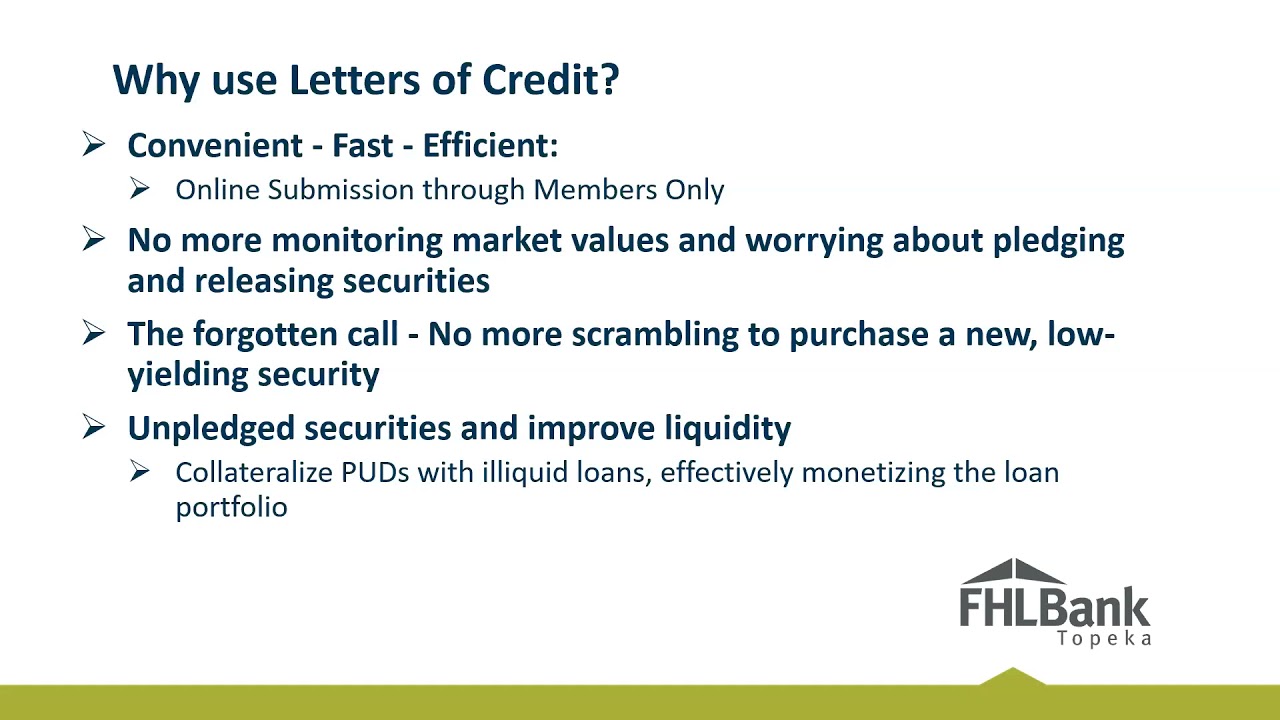 Your Financial Institution and Letters of Credit
BENEFITS
Gives you more flexibility
Strengthens your depository relationships by guaranteeing the return of funds
Promotes higher yields on assets by reducing portfolio investments in low-yielding Treasury and agency securities, and increasing allocation to higher-yielding securities and loans
Eliminates monitoring market values and maturity dates because our letter of credit's value never changes
Reduces paperwork and administrative fees associated with pledging and releasing securities and replacing maturing or called instruments
Provides immediate confirmation after the easy application on our Members Only site
LOW FEES
0.125% per annum on the day of issue ($125 minimum fee) for simple letters of credit
Fees on letters of credit of $5 million or more may be charged on a quarterly basis
See our Member Products and Services Guide for full pricing schedule