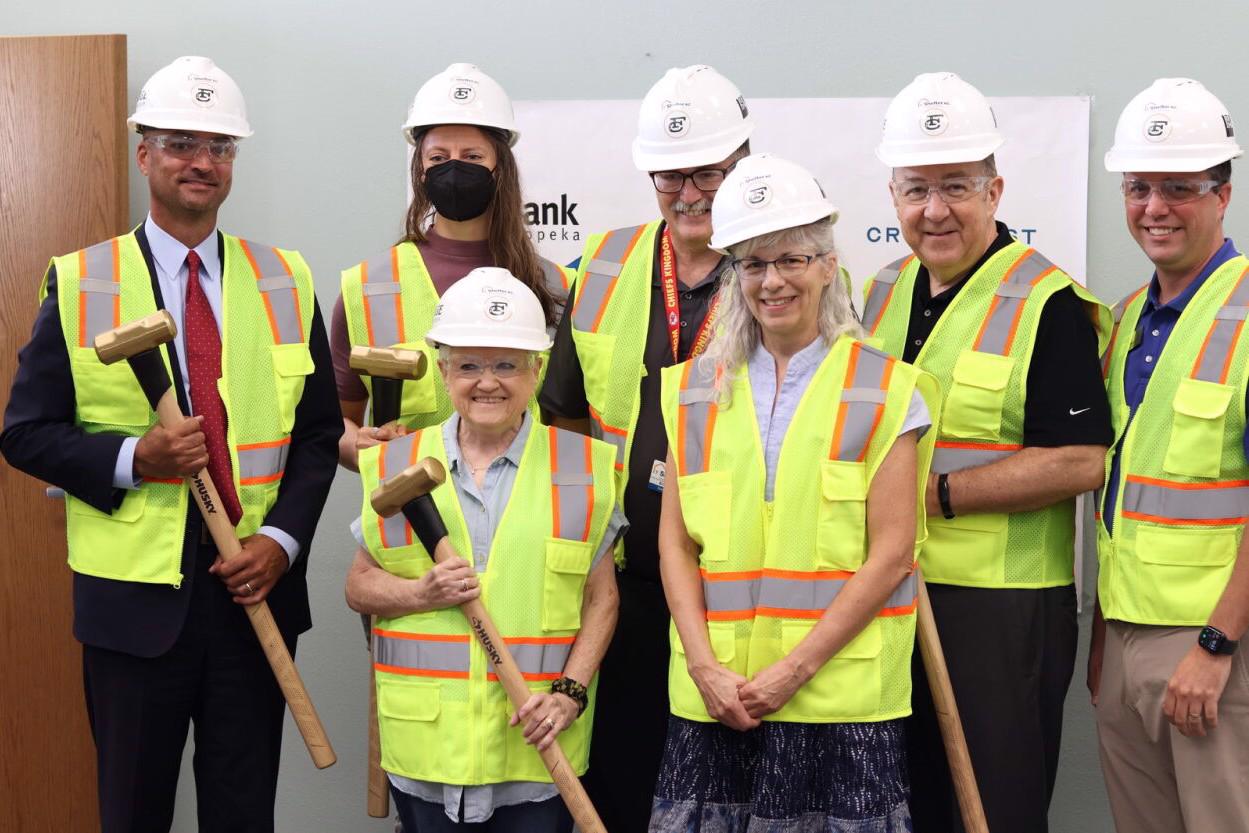 AHP Grant Kickstarts Funding for Rescue Mission
September 5, 2023
September 5, 2023
AHP Grant Kickstarts Funding for Rescue Mission
Providing funding for housing projects is old hat to FHLBank Topeka. Donning a hard hat and swinging a hammer is a little more unusual.
In recognition of the start of an upcoming renovation project at Shelter KC, FHLBank Topeka staff, alongside member bank CrossFirst Bank and other Shelter KC partners, demolished the first wall in the decades-old building.
"Our space is severely limited and poorly configured," said Eric Burger, executive director of Shelter KC, a Kansas City rescue mission. "The worn-out look and feel of the facility does not communicate the sense of hope and healing we wish to convey to our clients."
The demolition day launched the renovation, which was partially funded by a $962,000 FHLBank Topeka Affordable Housing Program (AHP) grant through CrossFirst Bank, headquartered in Leawood, Kansas.
The AHP funds offset much of the expected $1.5 million renovation costs.
"The grant kickstarted our fundraising efforts," Burger said. "Once we had the FHLBank grant secured, other donors quickly followed by giving to the project."
The project will provide two new spaces at Shelter KC - the Renew Mental Health Center and the Respite.
The Renew Center will have a less institutional and more inviting environment drawing on trauma-informed design practices to better serve the mental health needs of Shelter KC clients.
The Respite will provide an area for unhoused individuals recovering from surgery or medical care, a need not being met anywhere else in Kansas City.
In addition to the two new areas, the project will also include a new dorm with 14 beds for men working on a plan out of homelessness. Rather than traditional bunk beds, the dorm will include modern step-up beds that offer more privacy, storage, reading lights and accessibility.
"We are proud to support the renovation of Shelter KC," said Mark Yardley, president and CEO of FHLBank Topeka. "We look forward to seeing the holistic benefits the renovations and expansion will provide to Shelter KC guests."