Five Things You Need To Know About FHLBank's Digital Transformation
September 20, 2023
Ten current FHLBank Topeka agreements will be consolidated into one electronic Master Transaction Agreement (MTA) in early 2024. With the streamlined document, there is no more need to collect signatures from multiple branches for these authorizations.
When the MTA is released, the FHLBank Members Only website administrator role will be expanded to add responsibility for granting transaction authorities. You will have full control of setting up who has access to transact without filling out new agreements. You might want to consider if you need to update your Members Only administrator(s) to ensure you have the right people serving in this role. Members Only administrators can see a full list of current assigned administrators online or you can call us at 800.809.2733.
The new MTA will need to be reviewed by each institution's board. You will have 90 days after the MTA is released in early 2024 to review and sign through Adobe Acrobat Sign.
Each institution will need at least two registered Members Only administrators since the new duties will be secured by dual approvals. We highly recommend you have three or more to provide backups when staff members are out.
Each member of your team authorized to do transactions with FHLBank will require a Members Only account once the MTA is finalized, even if they are conducting transactions by phone. Our annual agreements review email will be shared with each member's President contact by the end of September. You can compare this list with the list of Members Only users listed in the current Members Only admin area. Adding needed users now will make it easier to assign permissions in 2024.
Here is a basic timeline of what's planned.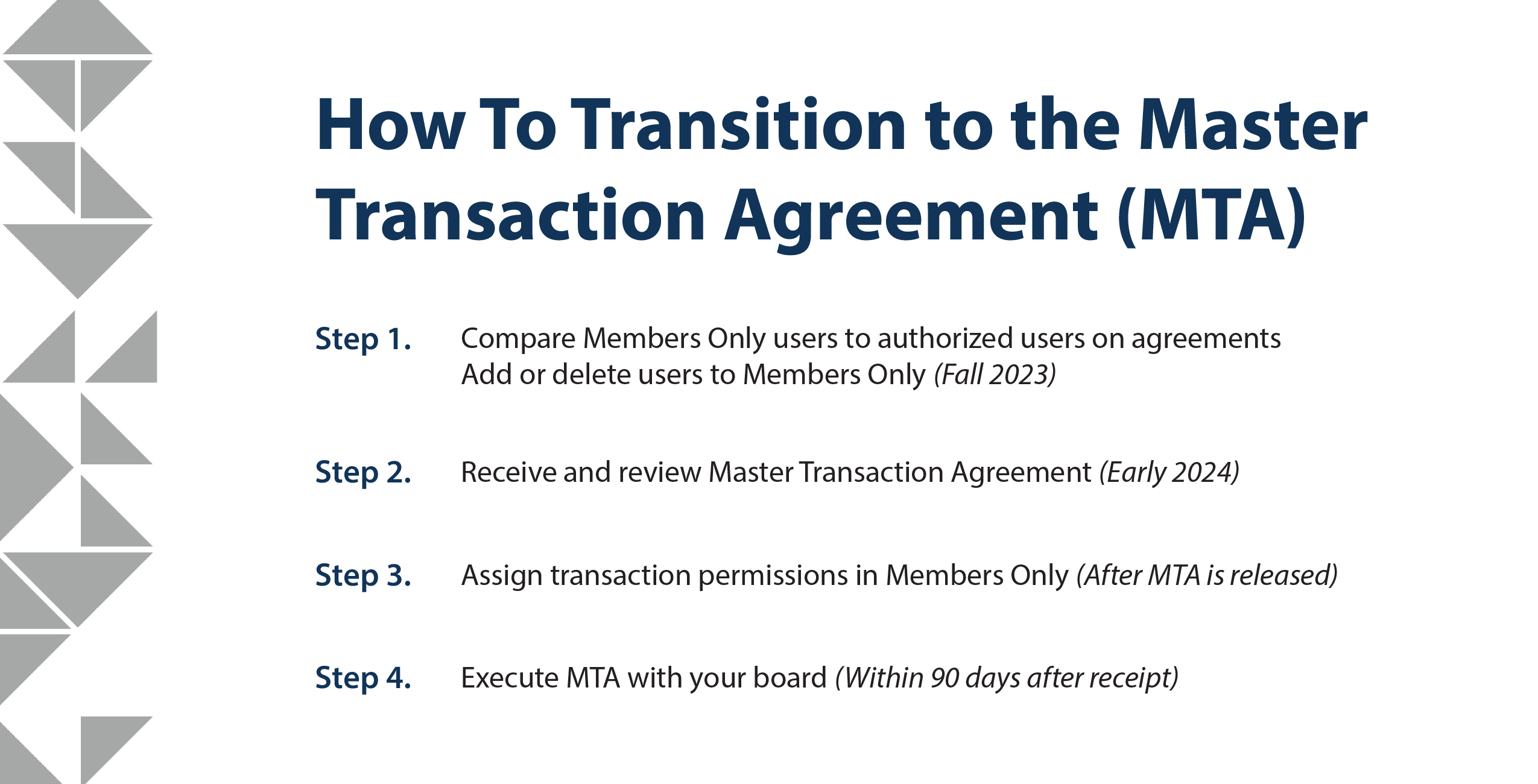 We are looking forward to this upgrade, which will lay the groundwork for future online transactions. We are developing videos and a landing page to help you through our digital transition. Watch your email and our website for more information this fall.
If you have any questions, please contact your regional account manager or the Lending team at 800.809.2733.