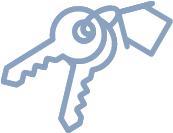 Additional HSP Funds Available Oct. 2
September 28, 2023
After evaluating our down payment assistance program utilization, we have reallocated funds to the Homeownership Set-Aside Program (HSP). HSP is a highly sought after program, widely utilized by members, that provides up to $7,500 per household to assist first-time homebuyers with down payment, closing costs or eligible repairs.
We are excited to provide an additional $300,000 to the HSP. The funds will be available in HSP Online, by 9 a.m., Monday, Oct. 2, on a first come, first served basis.
The additional funding is reallocated from the High-Cost Area HSP. Reservations for the High-Cost Area HSP may still be submitted, as only a portion of the High-Cost Area HSP funds is being reallocated to the HSP.
As a reminder, the review of reservation and disbursement requests take time. Please ensure a minimum of 15 days has been allotted to receive an eligibility determination. We appreciate your patience as we work as quickly as possible to process your requests.
Please contact us at hsp@fhlbtopeka.com if you have any questions.