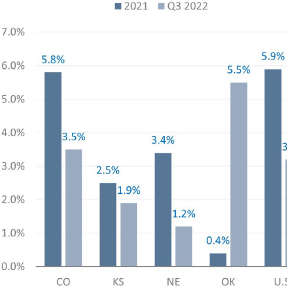 Third Quarter 2022 Economic Update
By Corporate Strategies and Solutions
February 15, 2023
As expected, economic growth in the third quarter of 2022 rebounded into positive territory, buoyed by strong consumer spending despite rising rates and high inflation.
Overall, the U.S. economy grew by 3.2% in the third quarter. Forecasts predict another quarter of mild growth to end the year before slowing in 2023. According to the Conference Board, annual U.S. GDP growth will end up around 1.9% and 0% in 2022 and 2023, respectively.
Compared to the rest of the U.S., Tenth District* (District) states' figures have varied from an economic growth perspective.
Corporate Strategies and Solutions
Our Corporate Strategies and Solutions department monitors today's economic environment and analyzes our members' financial trends and business activity. The department serves our members by identifying funding and liquidity strategies or solutions that fit their needs and help them enhance their financial performance.