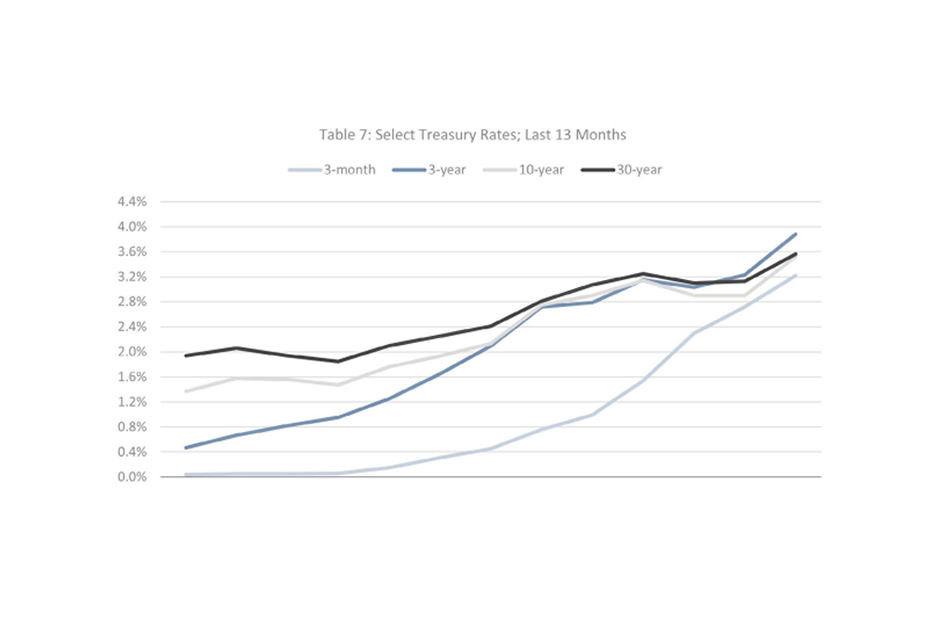 Fourth Quarter 2022 Economic Update
By Corporate Strategies and Solutions
April 26, 2023
Given noticeable slowing in GDP growth, a drop in consumer confidence resulting from recent bank failures and consistent rate hikes from the Federal Open Market Committee (FOMC), the economy looks to be headed for recession (if not there already).
Business and consumer spending remains elevated given the excess of savings still in the market as well as a healthy labor situation. Overall, the U.S. economy grew by 2.1% in 2022. According to The Conference Board, a think tank, odds of a recession are near 99% with zero to negative real GDP growth rates in the first three quarters of 2023.
Compared to the U.S. average, Tenth District* (District) states' GDP growth figures vary significantly. Heavily reliant on the health of certain sectors, District states' economic growth typically ebbs and flows based on the situations in agriculture and energy. Captured in "Remaining contributors" in Table 2 below, 1.24% of Oklahoma's 1% drop in 2022 real GDP growth was the result of poor performance in mining, quarrying and oil and gas.
Corporate Strategies and Solutions
Our Corporate Strategies and Solutions department monitors today's economic environment and analyzes our members' financial trends and business activity. The department serves our members by identifying funding and liquidity strategies or solutions that fit their needs and help them enhance their financial performance.